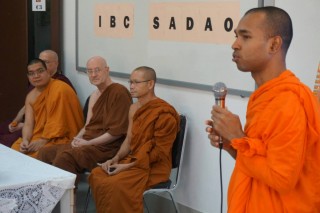 July 27-29, 2016
The International Buddhist College (IBC) held a three-day New Student Orientation Program (NSOP), from July 27 to July 29, 2016 to welcome the new Academic Year of 2016-2017. The committee members received all new students with joyfulness in order to make the students feel a warm welcome.
There are about 50 new students, more than 30 undergraduates and 18 post-graduate students for the new intake. The new freshmen come from 13 countries covering various parts of the world, to pursue Buddhist studies in the International Buddhist College. The University anthem "For the Goof of the Many" kick-started the NSOP 2016. Besides the committee members, a group of Kalyana Mitras from Than Hsiang Foundation, Penang, were also present at the NSOP to give their support and assistance to help new students adapt to the new campus life.
IBC has upgraded the facilities of the campus to create a more comfortable learning environment,. Besides re-painting the whole campus, installations of air-conditioners and multimedia devices have also been done in the classrooms.
In his welcoming speech the most respected Venerable Dr. Wei Wu, founder of International Buddhist College (IBC) mentioned that the establishment of IBC since 2005 had not been an easy task, He expressed thankfulness and gratitude to all who had given their valuable support and assistance to IBC in the past 11 years. The Venerable also urged all members of IBC including teachers and students to work together towards achieving IBC's educational goals.
The Vice Rector cum Dean of Faculty of Religious Studies, Professor Kapila Abhayawansa had a Skype session with all new students. He encouraged them to prepare themselves to face challenges in the pursuit of tertiary education. Professor Kapila also pointed out the importance of early doctrinal texts in Buddhist studies.
Ven. Anandajoti, advisor to IBC welcomed all the new students and advised them to apply the Four Brahma Viharas, namely Mettā (loving kindness), Karunā (compassion), Muditā (sympathetic joy) and Upekkhā (equanimity) in dealing with challenges in daily life as well as for creating a harmonious relationship among all despite of cultural differences.
There were fun and interesting activities in the afternoon. The ice-breaking session has created an opportunity for all new members to know each other better. They took turn to introduce themselves, their countries, cultures and life experiences. They also shared their expectations and vision to be in IBC.
Venerable Satyajit shared the "Philosophy, Mission and Objective of IBC" and Thai Culture with all new members. Some other programs which have been arranged were Introduction of IBC, Rules and Regulation of Library, Briefing on Visa and Bursary Application Matters, Introduction of Kalyana Mitra Group, IBC Temple Rules and Regulations and so on.
July 29, 2016
On the third day of the program, the committee members of IBC organized a trip around Hatyai, in order to let the freshmen get familiar and be acquainted with the local environment. They visited the Buddha Statue, Phra Buddha Mongkol Maharaj on top of the Khor Hong Mountain. All of the members enjoyed an authentic Thai cuisine buffet lunch with Prof. Kapila at Sky Buffet on Lee Garden Hotel's 33rd floor. After lunch they went shopping at Hatyai downtown.