A. Wan Ching Yuan
Wan Ching Yuen Centre for the senior citizens is under the aegis of the Than Hsiang Buddhist Welfare Association. This Home was founded by Venerable Wei Wu on a charitable basis following the Buddhist spirit of "benevolence, compassion, joy, and equanimity".
The primary aim of the Home is to provide personal quality care for the aged whereby they can lead a happy, meaningful and useful life. The subsequent aims are to provide facilities for the Buddhist fraternity to cultivate Buddhist teachings, as well as to enable and relieve working children the problem of caring for their aged parents while they are at work.
Contact Number: 04-6414904
1) Handicraft Group (Cloth Patchwork and Craft)


WCY Handicraft group comprises of individuals who are interested in helping and learning. We welcome everyone regardless of race, religion and gender. We welcome anybody who have knowledge of sewing and anybody who would like to learn the craft.
Our handicraft group meets on every Tuesday, at 10.00 AM to 2.00 PM. Our shop is open on every 1st and 15th day of the Chinese calendar.
"Generosity towards charity,
May your compassionate heart touch on others.
Willingness to be a volunteer,
May your selflessness lead you to the path of Bodhisattva."
Should you have any inquiries, please contact
Maggie : 04 – 641 4904
Mdm Loke : 019 – 486 8666
2) Caring for Aged Group


We welcome all people with different talents volunteer in conducting activities such as reading newspaper for the aged, teaching simple conversation in different languages etc.
More
B.Than Hsiang Vegetarian food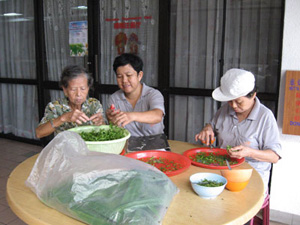 Than Hsiang Vegetarian Food Service is under the aegis of the Than Hsiang Welfare Association. It started in 1992 with a canteen catering to a small, but regular, clientele. In 1999, a Restaurant was added after some renovation work and this proved to be hugely popular. Now Than Hsiang Vegetarian Food Service is an array of vegetarian food services and includes in-house food service besides the canteen.
Service Needed: wash and cut vegetables etc
Contact Number: 04-6414822,ext.:104
C. Library


The Than Hsiang Library is situated on the 4th floor of the new Temple Building. The daily opening hours of Than Hsiang Library starts from 9.00 am to 5.30 pm. Monday to Sunday. The library will be closed during public holidays. We also need helpers from time to time to assist us in several areas of works in the temple and the library. We appreciate all kinds of assistance and volunteer work.
Contact Number: 04-6414822,ext.:404
D. Mitra Welfare Centre


Mitra Line was established on 19 February 1990 to provide telephone counselling and hotline services. It assists, guides and cares for those who are emotionally lost and confused. Beside telephone counselling hotline, the Centre also organises Talks, Film-Shows, Intimate Relationship Workshops, Group-Reading, Sharing and other workshops for all to participate, learn and develope. We warmly invite you and your friends to join Than Hsiang Mitra Welfare Centre as volunteers in any of the following groups: Resource Group, Activity Preparation Group, Publication & Report Group, Recreational Group, and Social Service Group.
Contact Number: 04-6451141,email: mitra@tanxiang.org
Below is an excerpt from a book with title "Buddhism and Volunteerism", written by Venerable Master Hsing Yun from Taiwan:
The Benefits of Being a Volunteer
A volunteer attaches importance to matters of love and virtue. He or she serves with love and virtue in his or her heart. Money is never part of the motivation. Since the service is nothing but pure devotion, it is priceless.
Why do so many people willingly participate in volunteer organizations?
Volunteer work differs from other jobs. Other jobs are always for money or for pay. Volunteers work out of joy and to form affinity.The motivation is different. Since I became a monk 60 years ago, I have worked my entire life to teach the Dharma and to benefit sentient beings,without taking a vacation or resting on a Sunday or a holiday. Being a volunteer for 60 years, I have experienced Dharma joy and happiness that no money can buy. If someone can serve others with perfect willingness, i.e., becoming a volunteer, he or she will advance substantially in his or her spiritual realization.
Volunteerism is an important component of civic life. Engaging in volunteer work without economic rewards is a moral responsibility. It not only benefits others, but also develops the ideal of co-existence. Through the unselfish endeavors of volunteers, we will be able to enhance our compassion and loving kindness and promote social justice and a benevolent environment. As a result, volunteers make a substantial contribution
to governmental welfare projects and programs and charitable assistance and civic education.
If everyone volunteers, a peaceful society will automatically emerge. When one serves as a volunteer, the purpose is not to be acknowledged, because "Buddha sees everything" and "the law of karma never fails." Volunteering serves others, but it also accumulates merit and virtue. Well-cultivated virtue and merit will
benefit one's self in the many lives to come,leaving your later generations with peace, compassion,
wisdom, and virtue. These are precious properties that can never be taken away. If you do things you do not want to do, you will suffer a great deal. So service "with perfect willingness" yields intangible value. The main purpose of being a volunteer is to learn to be compassionate,to smile, to get along with people, to give pleasure to others, to plant the seeds of merits and virtue that will form good affinity with others.
The actual beneficiary of volunteer work,therefore, is one's self, not others as it first appears to be. In summary, there are eight benefits resulting from volunteer work:
1. Enhancement of self-confidence
2. Growth
3. Establishment of friendship
4. Broadly forming good affinity
5. Development of talents and potential
6. Fostering the sense of responsibility
7. Balancing theoretical understanding
with practice
8. Achieving a win-win position for
oneself and others