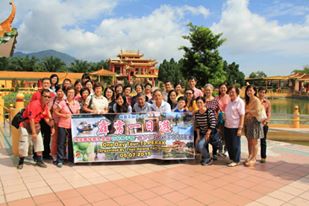 5 July 2015 was the day Than Hsiang Taiji Group going for a 1-Day Tour of Chemor, Tambun and Kuala Sepetang in Perak. Taiji members and their family members started gathering at Than Hsiang Temple car park around 6.00 am and our tour bus departed from Than Hsiang Temple around 6.45 am towards Chai Leng Park to have our breakfast.
After breakfast, we proceed straight to Perak, Chemor via North-South Highway, to visit the Seen Hock Yeen Temple (朱毛 - 善学院孔圣庙). This is a magnificent temple with majestic structures, intricately designed and crafted statues, a beautifully landscaped garden complete with lotus and koi ponds, artificial waterfalls, rock formations, pagodas and summer pavilions. This temple housed a statue of Confucius (孔子) whom students pray to wish for success in study. Besides the Jade Emperor (玉皇大帝), there are also statues and images of numerous other Taoist and Buddhist deities such as The Buddha (佛祖), Empress of Heaven (Tin Hau – 天后娘娘) also known as Mazu (妈祖) (Goddess of the Sea), Goddess of Mercy (Guan Yin Pusa – 观世音菩萨), Ksitigarbha Bodhisattva (Di Zang Wang Pusa – 地藏王菩萨) and the others. There are also 12 gold painted statues of Chinese Animal Zodiac.
When we reached the temple, there were temple assistants and a lady head of the temple
narrated the history of the temple and led us to prayers. The temple assistant also led us through a "Destiny Bridge" which said to help dispel whatever bad luck you have had and attracted the good luck. During the journey through the bridge, we had to look only towards the left side and never turn your head towards the right.
After making the round of the temple, we had the light refreshment of water and sponge cakes provided by the Tour Company at the Temple dining hall. After our refreshment, the next destination was Tambun Pomelo Farm.
We reached the Chin Pomelo Farm (打扪高晶柚子园) around noon. Walked around the farm and taking some photos then back to the shed of the fruit stall to listen to the owner of the farm, Mr. Chin explaining the benefit of pomelo. Tambun is famous of producing big, juicy and sweet pomelo, is said this had a lot to do with the limestone hills surround the area. The cool air and the soil have the right composition of minerals which are conducive for pomelo farming. There are two types of pomelo – the cream color flesh with a sweet taste and pinkish color flesh with a sweet sour taste. Besides pomelo, the farm also has grown star fruits and guavas.
After the pomelo buying spree of our members, we proceed to have our lunch.
Our lunch was held at Ipoh, Golden Point Food Court (怡保-城中城美食坊). There were a lot of variety of food at the food court. All the members seemed to enjoy their food there.
After lunch, we were brought to a local products shop, opposite Perak Cave Temple (Pek Li Tong – 霹雳洞) for shopping.
After about half an hour shopping, we proceed up north to Taiping (太平), Kuala Sepetang (十八丁) to visit the Charcoal Factory (碳窑厂). The charcoal factory is owned by the Chuah family. When we were at the factory, the younger Chuah explained to us the process of charcoal production. Every single process in a charcoal factory is manually done by human power. Charcoal production is a long process and involved lots of man power. The process charcoal are mostly exported out of the country. There is also some by-product of charcoal which also attracted to our members to purchase.
We were supposed to visit Matang Mangrove Forest (红树林) but due to time constraint, we just by-passed and did not stop but proceed to Kuala Sepetang Fishing Village (十八丁鱼港). It is a thriving fishing village with the most Chinese community.
The Port Weld railway station was located at the center of town. The whole railway line from Kuala Sepetang to Taiping, which was the first railway line in the Peninsular, is now dismantled, and only the ticketing booth and the Port Weld railway signboard remain. After the walking sight-seeing around the fishing village, we walked to a local fishing village restaurant (Kedai Makanan Tepi Sungai – 十八丁海上食店) to have our dinner at around 6.00 pm. The restaurant is built jutting out to the river on the 1st floor of a Fish Dealer Company. After dinner, directly travel back to Penang via North-South Highway and the Penang 2nd Bridge (Jambatan Sultan Abdul Halim Muadzam Shah), reached Than Hsiang Temple around 9.00 pm.
It was an enjoyable and unforgettable tour to all taiji and family members.
Conclusion:
Since Than Hsiang Taiji Class started 5 years ago, this was the first time it organized an out of State tour for its members. It could make possible due to the coordination and cooperation of all taiji members, especially Bro. Beng Sun to liaise with the Tour Company, Sis. Kean Peng be responsible with the collection and payment of tour fees, Sis. Lean Eng to coordinate with the members and Bro. Danny, taking the unforgettable and memorable photographs all the way. The purpose of this tour was to let the taiji members to have an enjoyable and relaxation weekend and also to create a closer rapport among its members. We had a total of 42 participants (34 taiji members plus 8 immediate family members) going for the trip. It was an educational and pleasure trip. Thanks to our well-disciplined members that helped our trip carried on smoothly. Our tour also had the blessings and well wishes from Ven. Zhen Xin, our Master Tang and Than Hsiang Dharma Friends. Thank you
to all of you.
Thanks too to the Tour Company - Golden Experience Holidays (who provided us with 4 free seats, mineral water and sponge cakes), its 2 tour guides – Mr. Alvin, Ms. Tan and driver En. Razak, Bro. Neoh's contribution of snack pack of the bun, muffin and chocolate bar.
Thank you and Gan En.
Than Hsiang Taiji Group had also made an offering of fruits (Pomelo and Star Fruits bought from Tambun) to the Sangha members of Than Hsiang Temple.