Submitted by soonchien on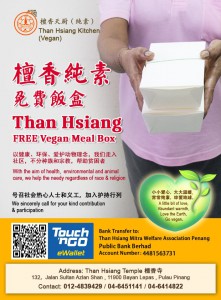 THAN HSIANG FREE VEGAN MEAL BOX
A Little Bit of Love,
Abundant Warmth,
Love the Earth,
Go Vegan!
Initial Concept
The Covid-19 virus Delta variant has accelerated its spread to various countries and ravaged the world, traumatizing the global economy and greatly affecting all walks of life. This is seriously affecting the livelihood of the people, in Malaysia the economy has almost stopped, resulting in many social problems, such as salary reduction, salary suspension, unemployment, bankruptcy and so on.
Than Hsiang Foundation, Than Hsiang Mitra Welfare Association Penang
A few months ago, Ven Dr Wei Wu, President of Than Hsiang Foundation, deeply felt the difficult situation faced by the community. He initiated the Than Hsiang Free Vegan Meal Box project together with Than Hsiang volunteers, staffs and supporters. This compassionate drive of providing free vegan meal is aimed to help the needy irrespective of ethic origins and religion to promote a healthy diet and lifestyle protecting the environment and care for animal. The Than Hsiang Free Vegan Meal Boxes were distributed quietly with active promotion by the staffs of Than Hsiang Mitra Welfare Association Penang, funded by many social enthusiasts and volunteers. So far, more than 6,000 meal boxes have been distributed to the needy in the neighbouring communities. Great warmth was radiated even though our strength is limited.
Than Hsiang Members (Volunteers and Staffs)'Team
The idea of the Than Hsiang Free Vegan Meal Box is derived from the ingenuity and loving kindness of a close-knit team of Than Hsiang Members.
There are Four Major Units for the project:
1. Research and Development'
2. Production,
3. Marketing, and
4. Funding
In all units, we pay detail attention to
a. Preparation including the Motive and Planning,
b. Main Practice (execution of the tasks) and
c. Conclusion including Review and Merit Transference.
1. Research and Development of diversified vegan food
The menu provides diversified vegan foods suitable for different ethnic (Malay, Chinese, Indian and Western) taste. Healthy and natural ingredients are used emphasizing on a balanced and nutritious diet.

2. Production: Material Procurement, Food Preparation and Packing
The production team consist of a group of dedicated Than Hsiang Members responsible for coordination with the kitchen. The team leader ensures that the practice of the standard operation of Preparation, Main Practice and Conclusion. Motive plays an important part in the Preliminary Planning which will affect the Main Practice and Conclusion. At the same time, the team leader is to remind fellow team members to practice the Dharma in their daily life.
In the Main Practice stage , kitchen members (staffs and volunteers) should practise self-discipline adhering to the Standard Operating Procedures (SOP) of maintaining personal and food hygiene. The utmost priority is "Serving the Public". They would be reminded to be mindful and refrain from idle talks or gossips. Supporting, preparing and delivering the Than Hsiang Free Vegan Meal Boxes to the needy is actually a meaningful act of accumulating Merits and Wisdom while benefitting oneself and others in the practise of Buddhism – the Motivation is Bodhicitta.
We pay careful attention to Packing to Protect the Environmental.
3. Communities receiving Than Hsiang Free Vegan Meal Boxes
Than Hsiang Members' team started the distribution of lunch boxes at the Jalan Tengah flats adjacent to Than Hsiang Temple, and then extending to other close by areas. Through mutual cooperation with local residents' associations, the team helped residents and foreign workers in need.
4. Charity fund for Than Hsiang Free Vegan Meal Boxes
Than Hsiang Foundation will start the ball rolling by allocating RM50, 000 to support the Than Hsiang Free Vegan Meal Boxes project in the hope to inspire companies and individuals to come forward to support this charitable project. We welcome enthusiastic people of all races and religious faiths from the society to support and participate in the Than Hsiang Free Vegan Meal Boxes by donating to the fund and participate as volunteers. Let us work together to help ease the severe difficulty faced by those in need.
For tax exemption receipt, kindly click the link: https://tinyurl.com/THmealbox
For non tax-exemption receipt, kindly bank in to:
Than Hsiang Mitra Welfare Association Penang
Public Bank
4481563731
Please remark: TH Mealbox
Kindly whatsApp the transfer slip to 012-4839429 mitrapenang@gmail.com
*Not required to fill in the form, Whatsapp the slip to 0124839429 will do.
Merit Sharing: May the pandemic be overcomed as soon as possible
Members from the Than Hsiang Foundation, Than Hsiang Mitra Welfare Association Penang and other Than Hsiang units take this opportunity to transfer merits accrued from this project to those affected by the Covid-19 Pandemic, and pray that the pandemic will be overcomed so that people all over the country will return to their normal life as soon as possible.
Note: This Team will cover Penang state in Malaysia. Other teams will cover Klang Valley, Negeri Sembilan, Kedah and Perak in Malaysia as well as Korat and Songkhla provinces in Thailand. All teams are members of one 'Big Family of the Buddha', we share experiences and learn from each other.
For any enquiry please WhatsApp http://wa.me/60124839429
or contact 04-6451141 / 04-6414822