Submitted by soonchien on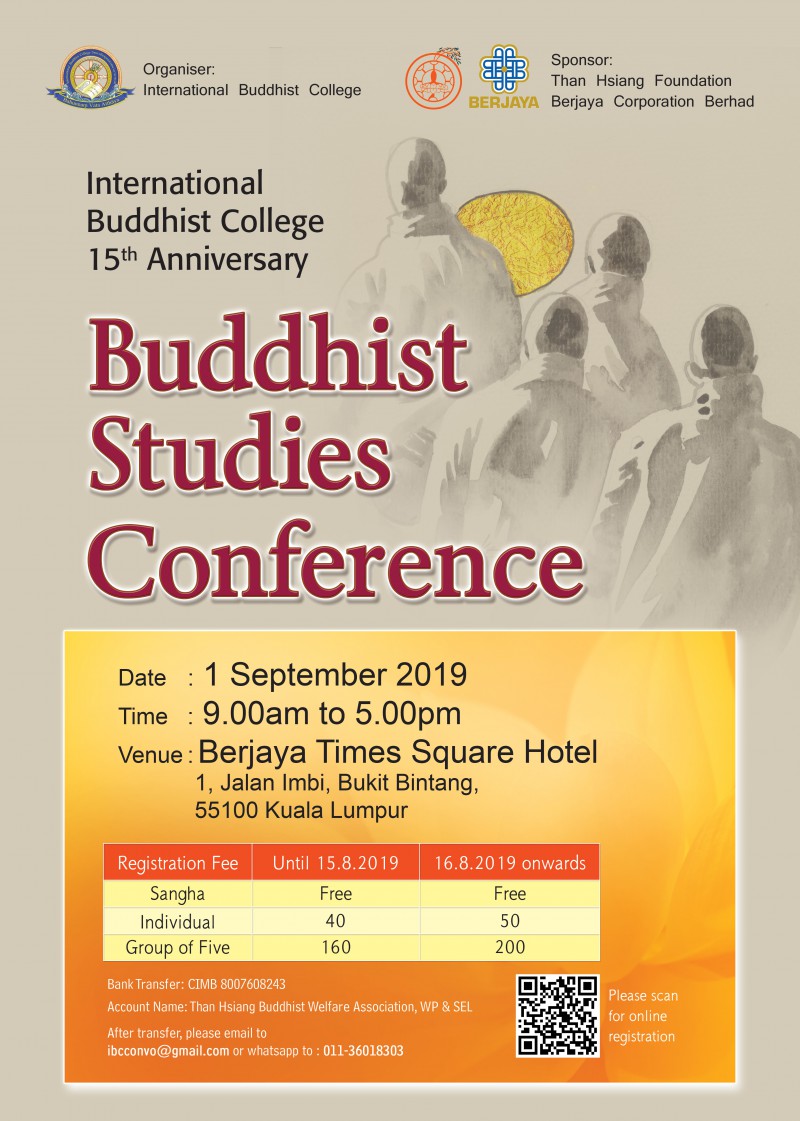 The International Buddhist College (IBC) is holding its 15th Anniversary Buddhist Studies Conference on 1st September 2019 (Sun), 9:00am to 5:000pm at Berjaya Times Square Hotel, Kuala Lumpur.
We are bringing in top scholars in Buddhist Studies from many countries, including Ven.Prof.Dhammajoti, Prof.Dr.Peter Skilling, Prof.Lalji Shravak, Prof.G.A. Somaratne, Dr. Mattia Salvini, Dr. Supriya Rai, Dr.Charles Wilemen, and Dr.Fa Qing to speak at our Conference. It will be one of the top conferences in Buddhist Studies in the world for 2019.
The conference is proudly sponsored by Than Hsiang Foundation and Berjaya Corporation Berhad. As such, participants only need to make a donation of RM40 (until 15 Aug 2019) and RM50 (16 Aug 2019 onwards) to participate in this conference. For group registration of five, a special rate of RM160 (until 15 Aug 2019) and RM200 (16 Aug 2019 onwards) applies. Vegetarian lunch and tea breaks will be provided during the conference.
Please register yourself at https://forms.gle/jbfwqtmomFWHWn418 today to learn from the many top Buddhist scholars who will be here for you in Kuala Lumpur.
Any inquiries kindly contact Sis.Serene Sin at Than Hsiang KL 03-79719876/ 79847942. You can also drop your message to ibcconvo@gmail.com or whatsapp to 011-36018303. Thank you.
Online Registration
https://forms.gle/jbfwqtmomFWHWn418