Submitted by soonchien on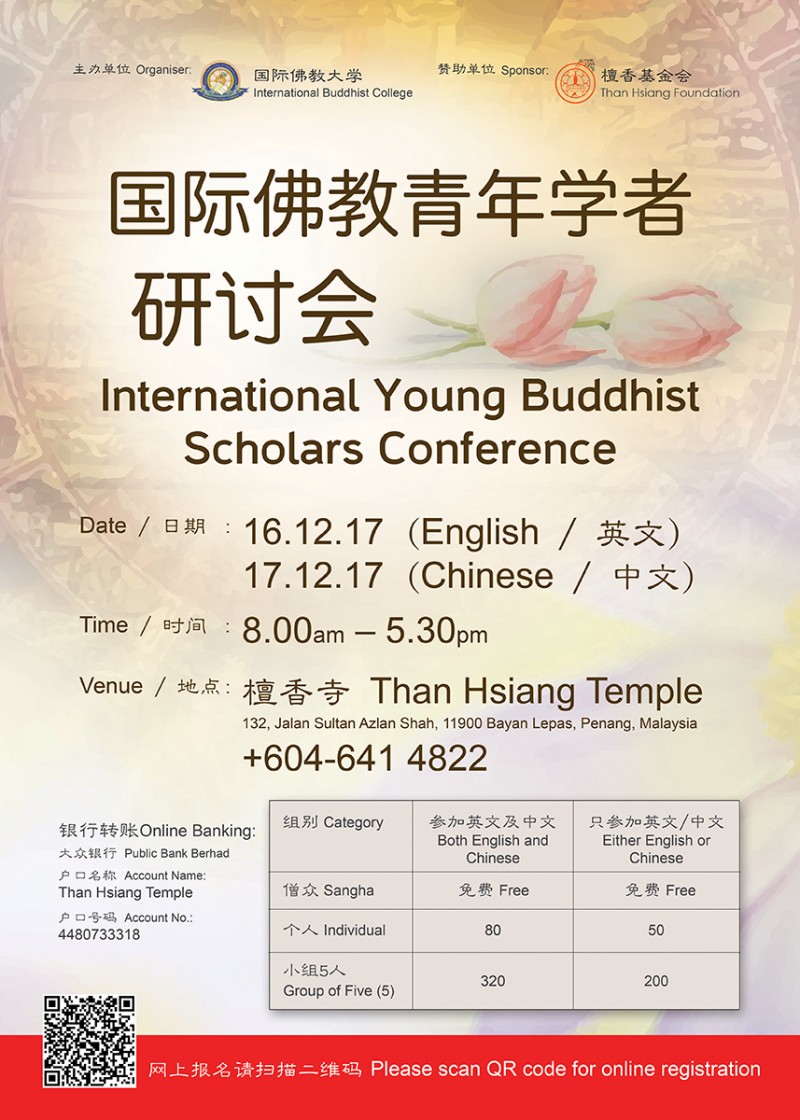 International Young Buddhist Scholars Conference

Objective
The objective of this conference is to offer an opportunity to "young scholars" (Young scholar defined as those with less than five years experience in the field) to present and publish results of their research to promote studies and researches in Buddhist Studies, share knowledge as well foster academic alliances.
Papers relevant to contemporary Buddhist research are welcomed. Successful participants will be awarded a Certificate of Accomplishment, have their papers published in the eJournal coordinated and edited by Than Hsiang Buddhist Research Centre, Penang, and also stand a chance to win the Outstanding Young Buddhist Scholar Award.
Presenters:
Chinese:
释真如 ----------- 《法華玄義》的 "五味半滿相成" 教相初探
李静女士--------- 从京都的"五山送火"仪式考察当代日本佛教的特征
狄宣亚先生------ 说一切有部的择灭思想-- 以《大毗婆沙论》为基础
李亚玲女士 ----- 论当今寺院生活体验活动对佛法传播的影响
熊一玮女士 ----- 《佛说月上女经》版本与流传研究
释普愿 ----------- 关于禅定中住定不得过七昼夜的讨论
区佩仪女士 ----- 佛教东传时序考
梁燕女士--------- 试论印度神祇信仰与早期佛像谱系的展开
易琦女士--------- 基于"意现量"对"诸根互用"进行浅探——以《成唯识论》为中心
吴妙兰女士 ----- 艺乘与念佛
郑运兰女士 ----- 从清代僧人诗文探讨佛教与文学的关系
符月明女士 ----- 念佛法门里"念"的本意
张晓芬博士 ----- 佛教「善恶伦理」的普罗教化 ─ ─论《占察善恶业报经》中现实关怀与内在超越
田雯、谭泽民--- 心与心性论
欧嘉慧女士 ----- 早期佛教慈心观的修持及其功德
释广济 ----------- 劉裕與佛教
释海音 ---------- 《大智度论》中有关大乘菩萨自利利他之探究
释恒真 ----------- 略述坛经思想的启蒙及禅法特色
释真禅 ----------- 义净与南海的因缘和其贡献
郭天明先生 ----- 期刊报纸视域下的地方佛教的传播与发展--以1912-1949年济南佛教为个案
张洋先生 -------- 《成实论》的灭谛思想体系探析
景丹女士 -------- 浅析"认物为己"与"迷己为物"及其对现实的意义
English:
Rev. Wadigala Samitharathana ----- The Middle Way of Buddhism for Sustainable Development amidst Social Changes
Ms. Kakulandala Vithanage Janitha Koshalee & Dr. Chandima Bogahawatta ----- Gaṇapati in early Buddhist art of Sri Lanka: An explanation of the elephant-headed figure at Mihintale Kaṇṭaka Cētiya
Dr. Naresh Shakya and Milan Maharjan ----- Newar Artists' contribution to Asian Buddhist Paintings
Dr. Yaoteng ----- The History of Translating Chinese Tripitaka into English: Four Paradigms
Dr. Madugodage Nipunika Sandamali Dilani ----- Engaging in Buddhist Rituals as a Psychological Relief for the Elders
Mr. Ludovic Corsini ----- How to understand Buddhism today? Back to the origin of Indian Buddhism
Mr. Gao Mingyuan ----- Samanantara-pratyaya and Saṃtati:The Perspective of Early Sarvāstivāda Ābhidharmikas and Dārṣṭāntikas
Ven. Neminda ----- Buddhist Meditation Chaplaincy: Spiritual Care for Death
Ms. Mya Mya Yee ----- Buddhist Code of Law – An Appraisal
Ven. Walasmulle Wajira ----- Bridging the Two Vehicles
Mr. Kazal Barua ----- Tracing the Socio-economic Roots of the Buddhist Concept of Universal Monarch (Cakkavatti-rāja)
Ven. Bodhimalkada Sumanarathana ----- Human Supremacy - Buddhist insight
Ven. San Pisith ----- The Contributions of King Aśoka to Buddhism
Ms. Thinzar Kyaw ----- The Best Bedtime Stories for the Kids
Mr. Jaroon Chaibao ----- Special Features of Thai culture under the Buddhist influences
Ven. Narong Chaiyatha ----- Addicted persons – Center Based treatment and Buddhist
Ven. Ehelepola Mahinda Thero ----- Ven. Polwatte Buddhadaththa Thero and his Enormous Contribution to Buddhist Studies and Pali Language
Ven. Hui Chen ----- Teaching methods of the Buddha embodied in the Dhammapada stories
Dr. Siew Ngung Chia ----- Can a female laity be the leader and spiritual teacher of a monastic community?
Mr. Sanjoy Barua Chowdhury ----- The Legacy of Atiśa: A Reflection on Textual ----- Historical and Doctrinal Developments to Enrich Buddha Dhamma from the azimuth of Vikramśilā to Modern Era
Registration & Fee
Sangha - Free
Individual - RM 80 (Both English and Chinese), RM 50 (Either English or Chinese)
Group of Five (5) - RM 320 (Both English and Chinese), RM 200 (Either English or Chinese)
Please fill in form and send it to the office together with the fee.
Online Banking:
Public Bank Berhad
Account Name: Than Hsiang Temple
Account No.: 4480733318
Programme
07.15 - 08.15 Breakfast
08.00 - 08.30 Registration
08.30 - 09.00 Opening Ceremony & Opening
Address by Ven. Dr. Wei Wu
09.00 - 09.20 Keynote Speech by
Prof. Charles Willemen
09.20 - 11.20 Paper Presentation:
Panel 1 Speakers 1 – 4
Panel 2 Speakers 5 – 8
11.20 - 12.40 Lunch
12.40 - 14.10 Paper Presentation:
Panel 1 Speakers 9 – 11
Panel 2 Speakers 12 – 14
14.10 - 14.40 Coffee Break
14.40 - 16.10 Paper Presentation:
Panel 1 Speakers 15 – 17
Panel 2 Speakers 18 – 20
16.10 - 17.15 Paper Presentation by
Senior Speaker:
Prof. Kapila Abhayawansa
Summary & Discussion
17.15 - 17.30 Closing Ceremony &
Presentation of The Outstanding
Young Buddhist Scholar Award
and Certificate of Accomplishment
***Please Register Online
https://docs.google.com/forms/d/e/1FAIpQLScV_gjN5jXv-8C30coiAh7wIPOVtNlf...