Cleansing Ceremony for Lamp-lighting
Submitted by miyun on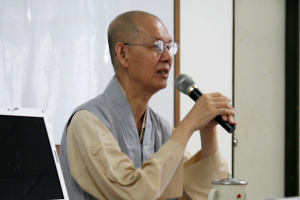 Wesak Day is celebrated throughout the world to commemorate and honor the Birthday of Lord Buddha, the Enlightened One. It is the most auspicious day in the Buddhist calendar, marking the birth, enlightenment and death of Buddha.
From April 28th to May 5th, Than Hsiang Temple is celebrating Buddha Day with lots of meaningful activities. There would be lamp-lighting, Buddhist themed Coloring and Drawing Competition for Children, Children's Drawing Exhibition, a souvenir counter for charity sales set up by Wan Ching Yuen, Wesak procession and 7 Dharma assemblies and ceremonies in total(Noon Offering, Cleansing Ceremony for Lamp-lighting,Buddha Bathing Ceremony,Taking Refuge & 5 Precepts Ceremony, Blessing by Sangha Members, Cleansing Ceremony for the Float and Chanting & Offering of LED Candles).
This year, there will be a significant change in Lamp-lighting where the temple will light the lamp digitally for the public. Participators' names would be shown on LCD monitors via computer at the Great Compassion Hall. In a word, the focus would be lighting our inner lamps of the Self instead of physical lamps offered by devotees. Besides, the increasing worldwide awareness of environmental protection also contributes to the change of lamp-lighting method. At the same time, through our innovative move, we wish that more people and organizations would be more aware of environmental issues and respond with adequate concern.
During the Buddha Day celebration, those who are interested in lighting their inner lamps may approach our Lamp-lighting counter at the Great Compassion Hall or reception office on the ground floor. Those who are interested in participating Wesak procession may register themselves at the reception office before May 5th. Apart from that, Than Hsiang Kindergarten will hold an open day on the morning of May 5th.
In the morning of April 28th, more than 20 devotees attended the Noon Offering at the Main Shrine on the sixth floor. Our eight-day Buddha Day celebration was then started off with a Cleansing Ceremony for Lamp-lighting held at the Great Compassion Hall at 8 p.m. Venerable Zhen Chan led the Sangha members and devotees performing the ceremony. There were about 60 people taking part in the ceremony. The ceremony ended at 8.30 p.m. and devotees stayed on for their regular Dharma cultivation session.