Preparation for 2012 Wesak Celebration
Submitted by miyun on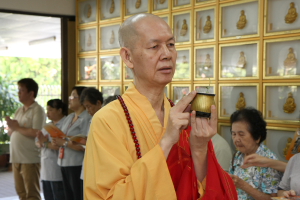 Wesak, now a.k.a. Buddha Day is traditionally celebrated by Buddhists in Bangladesh, India, Nepal, Sri Lanka, and South East Asian countries such as Singapore, Vietnam, Thailand, Cambodia, Laos, Malaysia, Burma, and Indonesia. Sometimes informally called "Buddha's Birthday", it actually encompasses the birth, enlightenment , and passing away of Gautama Buddha. Here in Malaysia there are many activities organized by temples including Buddha statue bathing ceremonies and float processions during Wesak celebration.
The verses in the Merit of Bathing The Buddha Sutra describe the true meaning of Bathing the Buddha:
I now bathe all thus come ones,
Who are adorned with pure wisdom, and who have amassed merit and virtue.
May living beings of the five turbid realms be led from filth,
And expediently realize the pure Dharma body of the thus come one.
May the fragrance from the realization of precepts, samadhi and wisdom constantly perfume every realm of the ten directions.
May this incense fragrance, performs countless Budhha work of salvation.
May suffering in the three evil paths and the wheel of Samsara ceases,
Completely extinguishing the fires and obtaining the coolness of relief.
So that all beings vow to attain the supreme Bodhi mind
Perpetually escaping the river of desires and advancing to the other shore of Nirvana.
Than Hsiang Temple is celebrating Buddha Day with lots of activities from Saturday, 28 April to Sunday, 5 May 2012. We cordially welcome you all to come to our temple.
Buddha Day Celebration Programmes
Below are photos showing some preparation for this grand celebration in progress at Than Hsiang Temple.