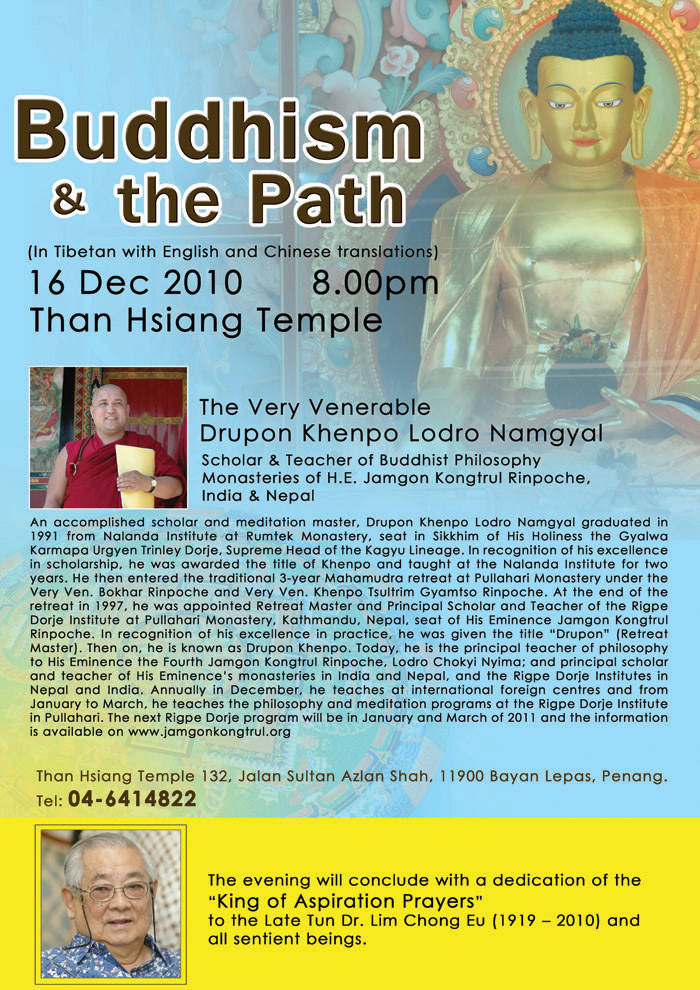 Buddhism and the Path

Buddhism comprises the body of teachings and practices that originated from those taught by Lord Buddha Shakyamuni. It deals with the relative and ultimate aspects of the nature of mind. Insight into the nature is the basis for dispelling ignorance, accumulating merit, perfecting wisdom, and developing skilful means for transcending suffering, and attaining unconditional bliss and joy.
At the heart of Buddhist practice is the core path of View, Meditation and Action: the essential steps for pure motivation, direct experiences of the true nature of mind, and the supreme attitude for the practice of loving-kindness and compassion in our daily lives. By eliminating clinging and aversion, we develop mindfulness, awareness and a healthy attitude, thus creating the potential for liberation from cyclical suffering and the eventual attainment of supreme enlightenment.
The Very Venerable Drupon Khenpo Lodro Namgyal

An accomplished scholar and meditation master, Drupon Khenpo Lodro Namgyal graduated in 1991 from Nalanda Institute at Rumtek Monastery, seat in Sikkhim of His Holiness the Gyalwa Karmapa Urgyen Trinley Dorje, Supreme Head of the Kagyu Lineage. In recognition of his excellence in scholarship, he was awarded the title of Khenpo and taught at the Nalanda Institute for two years. He then entered the traditional 3-year Mahamudra retreat at Pullahari Monastery under the Very Ven. Bokhar Rinpoche and Very Ven. Khenpo Tsultrim Gyamtso Rinpoche. At the end of the retreat in 1997, he was appointed Retreat Master and Principal Scholar and Teacher of the Rigpe Dorje Institute at Pullahari Monastery, Kathmandu, Nepal, seat of His Eminence Jamgon Kongtrul Rinpoche. In recognition of his excellence in practice, he was given the title "Drupon" (Retreat Master). Then on, he is known as Drupon Khenpo. Today, he is the principal teacher of philosophy to His Eminence the Fourth Jamgon Kongtrul Rinpoche, Lodro Chokyi Nyima; and principal scholar and teacher of His Eminence's monasteries in India and Nepal, and the Rigpe Dorje Institutes in Nepal and India. Annually in December, he teaches at international foreign centres and from January to March, he teaches the philosophy and meditation programs at the Rigpe Dorje Institute in Pullahari. The next Rigpe Dorje program will be in January and March of 2011 and the information is available on www.jamgonkongtrul.org