TO COLLECT A COMMEMORATIVE GOLD BUDDHA MEDALLION IN AID OF INTERNATIONAL BUDDHIST COLLEGE
Submitted by admin on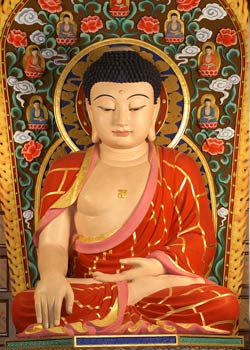 Introduction
To commemorate the opening ceremony of the International Buddhist College, Than Hsiang Temple of Penang, Malaysia is launching a Gold Plated Medallion project featuring the Sakyamuni Buddha statue enshrined in the Main Shrine Hall of the temple and the International Buddhist College building.
Introducing the GOLD MEDALLION of Lord Buddha :
The beautifully minted Commemorative Gold Medallion featuring the Lord Buddha is a valuable collectible for pious Buddhists. The fine minting work skillfully conveys the great spirit of the Lord Buddha. Each and every commemorative medallion is minted from materials of high standard hence its quality is assured.
The Buddha statue in the Main Shrine Hall of the Than Hsiang Temple is a masterpiece in contemporary Buddhist art, conveying the Buddha's stillness and tranquil serenity in meditation, the beautiful gesture of calling the earth to witness by Buddha's right hand touching the ground and legs crossed on a diamond throne. This is an exemplary expression of the compassion and wisdom of the Lord Buddha.
The Buddha stature features a 'Swastika' on the chest, soft white hair growing between eyebrows, tightly curled hair, full moon face, and deep blue lotus eyes. All these symbolize the thirty two special marks of perfection and eighty other features of the Lord Buddha.
This Commemorative Gold Medallion always is the first choice for either acquiring as your own collection or giving away as a gift to friend and relative. The buyer while contributing his share to the establishment of the International Buddhist College may receive boundless blessing as well. It is indeed a great meritorious deed.
Caption to Gold-plated Medallions of Buddha
Obverse design
Statue of Lord Buddha located at the Main Shrine Hall of Than Hsiang Temple, Penang, Malaysia.
Reverse design
Front view of International Buddhist College, Thailand.
Diameter
38.7 mm
Composition
Gold-plated bronze
Weight
23.50 gm
Mintage
On demand